When your torsion coil springs are damaged, you can count on the immediate services of our contractors. We are distinguished for our speed and great experience in all garage door springs. Our company is extremely strict when picking new partners making sure each technician has sufficient knowledge of spring requirements and is familiar with each spring's characteristics. The repairmen of Garage Door Repair Seattle are trained and keep working on their skills in order to meet all clients' demands and satisfy their needs.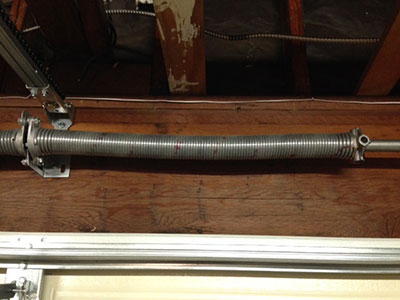 Spring specialists for emergency services
Each spring system has special characteristics and different requirements when it comes to spring garage door repair. For this reason, we ought to know their peculiarities since springs can be very dangerous if handled the wrong way. Our good training is your assurance that we will manage to install and replace springs in the most effective way without damaging your property. We remain strict to overhead door spring specifications, follow the rules by the book but we are also inventive when we encounter peculiar and difficult problems.
We have experience with all types of commercial and residential torsion and extension garage door springs. Garage Door Repair Seattle supports its technical teams with new age tools and great repair parts and, therefore, we are efficient in every service. Based on our experience we can detect serious problems and can consult you accordingly when your springs will need to be replaced. We can install additional Garage Door Springs and rest assured that our technicians will know which springs of what dimension will be right for your system.
The garage door broken spring will be replaced immediately thanks to the perfect preparation and professional awareness of our emergency technical crews. We have the expertise to adjust all kinds of springs, the knowhow to repair them and the experience to lubricate and replace them. Knowing the dangers that might be caused by snapped springs we like to maintain them often and surely respond fast to your emergency calls.
Get in touch with us whatever your need!